Principal's Welcome
Welcome to Dungannon Primary School's Website. Within this site we have provided you with a flavour of what we do. As teachers we pride ourselves in ensuring we meet the individual needs of all the children and are confident that when pupils finish their Primary School career they have been equipped with the necessary skills needed for Post-Primary education as well as being provided with the opportunity to fulfil their full potential.
The children of Dungannon Primary School know that they come to a happy school where academic standards are high and where discipline, hard work and learning go hand in hand with respect, courtesy and kindness for each other.
Thank you for the interest you have shown in our school and I hope you enjoy your visit to our site!
D Thompson
Events Calendar
Saturday, 2nd December 2023
PTFA Car Wash (10:00am - 2:00pm)
Monday, 4th December 2023
Swimming - LSCW (9:15am)
Tuesday, 5th December 2023
Swimming - P6/7FK (9:15am)
Wednesday, 6th December 2023
Swimming - P7EB (9:15am)
Thursday, 7th December 2023
Swimming - LSC M (9:15am)
DPS Terms & Conditions for Visitors
Notice to Visitors
Safeguarding Children
If you have any concerns that a child has been harmed, is at risk of harm, or you receive a disclosure, please contact the main reception as quickly as possible and ask to speak to a member of staff with responsibility for child protection.
Health & Safety
Your safety and well-being during your visit are important to us. As a visitor you have a legal duty to care for the Health & Safety of yourself and others.
Classrooms
Do not enter classrooms unless escorted by a member of staff or by prior arrangement.
Emergency
If the Fire Alarm sounds, leave the building by the nearest exit and proceed to the designated Assembly Point. Do not re-enter the building until you are told it is safe to do so.
Accidents
Any illness, injury or accident must be reported to the School Office.
Smoking
It is against the law to smoke on school premises.
Property
The school accepts no responsibility for any loss or damage to visitors' property or vehicle.
Toilets
If you require the use of a toilet during your visit, please ask to be directed to the staff toilets. The use of pupil toilets is NOT ALLOWED AT ANY time.
Mobile Phones
Must be switched on silent and camera functions must not be used whilst on school premises.
School Admissions 2024
The application process for admission to Primary Schools opens on Tuesday 9th January 2024 - Friday 26th January 2024.
Please click on the following link to see what we offer here at Dungannon Primary School.
https:/https://youtu.be/ZOotni_CWAM
To apply online, please visit:
Click on the parent tab and follow the relevant links
To view our admissions criteria, please click the following link:
http://www.dungannonps.co.uk/about/admissions-criteria/
Learning and having fun!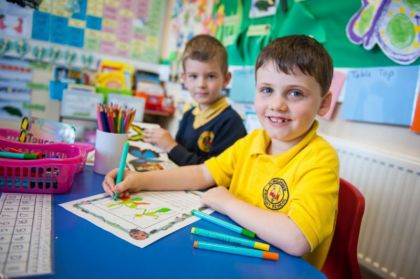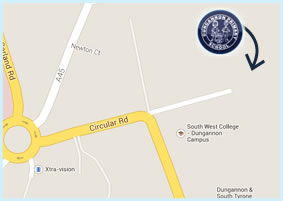 Contact Details
Dungannon Primary School,
Circular Rd,
Dungannon,
County Tyrone,
BT71 6BE
T: 028 8772 2250