Primary 4
Welcome to Miss Hall's Primary Four Class!
We are currently updating our website. Please visit again soon.
Literacy - November - December 2018
Language & Literacy – During November and December:
We will be learning to:
Grammar & Punctuation:
Past tense: adding "ed" and common irregular past participles e.g. said, went, came
Speech marks
Adjectives
Apostrophes for contraction e.g. I am à I'm
Alphabetical order
Phonics/ Spelling:
Understand and spell common contractions e.g. I'm, didn't
Form plurals using "s" and "es"
Extend our knowledge the same phoneme (sound) can be represented in a variety of ways.
Writing
Read and compose our own shape poems and calligrams
Reading
As well as Guided Reading the children will develop their skills by participating in the Accelerated Reader programme.
World Around Us - November - December 2018
World Around Us
November:
Continue and complete activities relating to 'Our Town Dungannon – A Castle Town'.
Roles of different people in castle
Explore purpose of towers
Tower challenge: create tallest, stable tower
Create castle fact file using Book Creator
Visit Ranfurly House: complete activities in 'Dungannon – Where I Live' programme.
Survey of buildings on walk to Ranfurly house
Complete 'L' section of KWL grid
December:
Winter weather
We will explore winter weather through a number of different activities:
Investigate winter weather around the world
Experiment with making snow
Complete ice investigations
Explore impact of winter weather on animals
Observe and record daily weather
Our Trip to Carrickfergus Castle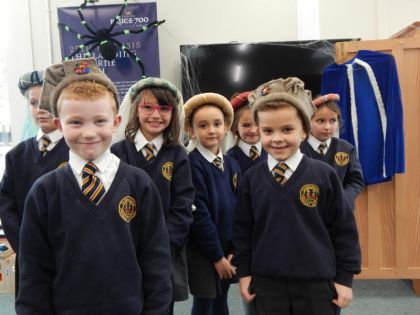 Numeracy - November - December 2018
Mathematics & Numeracy – During November and December:
We will be learning to:
Number
Develop a standard written method for vertical addition TU (with exchange), estimating the answer before calculating.
Understand that addition and subtraction are inverse operations.
Begin to understand the concept of multiplication and division through practical activities.
Carry out shopping activities calculating totals and change within £1.
Understand the concepts of X and -:- through practical activities.
Begin to develop recall of 2 and 10 X and -:- facts.
Measures:
Develop an appreciation of the weight of 1kg.
Estimate and measure using the metre as a standard unit.
Understand and use quarter to in analogue and digital time.
Know that there are 24 hours in one day, a.m. = 12 hours and p.m. = 12 hours.
Know that there are 60 minutes in 1 hour, 30 minutes in ½ hour and 15 minutes in ¼ hour.
Calculate durations involving hour, half past and quarter past times.
Shape & Space:
Recognise one line of symmetry in a variety of 2D shapes, designs and pictures.
Fit shapes together to make new shapes (e.g. tangrams).
Understand and use "quarter turn", ½ and ¾ turn.
Understand and use "left", "right" to describe direction of turn.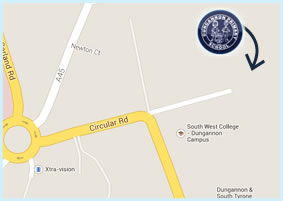 Contact Details
Dungannon Primary School,
Circular Rd,
Dungannon,
County Tyrone,
BT71 6BE
T: 028 8772 2250