Primary Five
Welcome to Mrs Alexander's Primary Five Class!
We are currently updating our website. Please visit again soon.
Literacy - September - October 2018
Language & Literacy – In this half term we will be studying:
Writing Units
Fiction:
Know and understand the term 'historical' in relation to story.
Understand how fiction determines settings and character.
Analyse characters and settings.
Talk about and plan writing.
Use different ways of planning stories e.g. brainstorming.
Write character sketches focusing on details to evoke sympathy.
Non-Fiction:
Understand the different features of non-fiction texts.
Identify features in print.
Understand the terms 'fact' and 'opinion'.
Understand the main features of a newspaper
Predict newspaper stories from headlines.
Write a newspaper recount.
Poetry
Know about significant poets
Write a poem based on a personal or imagined experience.
Sentence Level Work
Understand and use the term 'verb' correctly.
Identify verbs in sentences.
Understand the function of adverbs in sentences.
Identify and investigate the use of paragraphs.
Understand and use commas in writing.
Understand the importance of editing and revising own writing.
Word Level
Investigate plural nouns.
Understand the ways in which nouns and adjectives can be made into verbs.
Use a rhyming dictionary.
Numeracy - September - October 2018
Mathematics & Numeracy – In this half term we will be studying:
Number
Count forwards and backward in 1s, 2s, 5s and 10s within 9999.
Recognise spoken numbers within 9999.
Read numbers within 9999.
Write numbers within 9999.
Know number 'after', 'before', 'between' – within 9999.
Find missing numbers in a sequence within 9999.
Revise vertical addition HTU.
Use knowledge of Place Value to develop a written method for vertical subtraction HTU with exchange: decomposition.
Mentally subtract any number from 20.
Solve a range of addition and subtraction problems.
Know near doubles within 20.
Know all addition facts within 20.
Find doubles of multiples of 10 up to double 100 and corresponding halves.
Find doubles of multiples of 100 up to double 500 and corresponding halves.
Revise 2, 5, 10 multiplication facts and derive corresponding division facts.
Recognise spoken fractions.
Read and write fractions identifying numerator and denominator.
Measures
Estimate, measure and record lengths in cm/m.
Understand concept of perimeter
Explore square cm and estimate and measure areas using the square cm as a standard unit.
Shape &Space
Identify 3D shapes
Sort, name, recognise and describe 2D shapes..
Data Handling
Collect and record data using a tally chart.
Construct and interpret bar graphs, which require a scale on the frequency axis.
World Around Us - September - October 2018
World Around Us – The Tudors
Our Science, Geography and History activities will be based on the topic of The Tudors.
These are some of the activities we will be involved in.
The Tudor Monarchs
Life and wives of Henry VIII
Rich and poor Tudors
Tudor clothes
Food in Tudor times
Make lemon curd
Tudor homes
Making a model of a Tudor house
Herbs and medicines used in Tudor times
Grow our own herbs
Make a pomander
Complete science activities based on plants.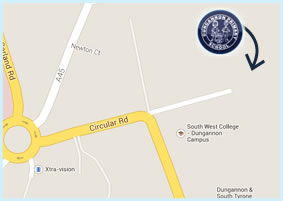 Contact Details
Dungannon Primary School,
Circular Rd,
Dungannon,
County Tyrone,
BT71 6BE
T: 028 8772 2250