Primary 6
Welcome to Mr Young's Primary Six Class!
We are currently updating our website. Please visit again soon.
Literacy - November - December 2018
Language & Literacy – In this half term we will be studying:
PHONICS
Different spellings of the sounds; ie, aw, er, ow
GRAMMAR / PUNCTUATION / VOCABULARY
Nouns (pluralisation), Verbs (past, present and future) and adverbs (to qualify dialogue verbs)
Standard English, dialect, avoidance of double negatives
Prefixes: auto, bi, trans, tele, circum
Understand a range of expressions
WRITING
Write instructional texts such as rules, recipes, directions, instructions.
Poetry:
Examine poems by significant authors and writing a poem using an author's structure.
Playscripts:
Write scenes for a play applying conventions such as stage directions and conversations between characters.
TALKING AND LISTENING
Drama: performing playscripts, comment constructively on plays and performances, use improvisation to explore themes.
Numeracy - November - December 2018
Mathematics & Numeracy – In this half term we will be studying:
Number
Understand tenths and 1 decimal place numbers.
Add and subtract fractions with same denominator.
Find fractions of quantities.
Use written multiplication and division methods and solve related word problems.
Understand the concept of factors.
Measures
Calculating perimeter and area.
Changing 12hr time to 24hr time.
Understand the concept of volume.
Shape &Space
2D shape – lines of symmetry.
Parallel and perpendicular lines.
Whole, half and quarter turns.
Data Handling
Collect, organise and present data.
Interpret pie charts.
Mental Maths
Quick recall of multiplication and division facts.
World Around Us - November - December 2018
World Around Us (Topic Work) -
Our topic this term is 'THE ROMANS'. Through this topic we will be looking at Roman inventions, Roman way of life, the extent of the Roman Empire, conquering and invasion and the effectiveness of the Roman army.
To know the progression and extent of the Roman Empire.
To understand Roman invasion and settlement.
To understand why people moved, invaded and settled.
To understand when and how the Romans invaded Britain.
To understand what made the Roman army successful.
To understand Roman fighting techniques.
To understand the reasons why many Celts wanted to be Roman.
To understand who Boudicca was and why she rebelled.
To become familiar with Roman life and leisure activities.
To understand morality in the context of fighting for entertainment.
To know the different types of gladiators and the effects of slavery.
To know the influence of Roman inventions, religious practices and culture.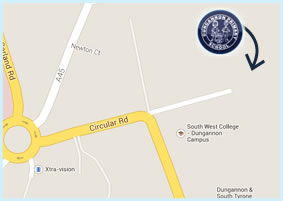 Contact Details
Dungannon Primary School,
Circular Rd,
Dungannon,
County Tyrone,
BT71 6BE
T: 028 8772 2250