Primary 2
Welcome to Mrs Atkins' Primary Two Class!
Numeracy - May June 2018
Mathematics & Numeracy – In this half term we will:
We will be learning to: Understand and use mathematical language when talking about their work. Solve everyday problems in the classroom. Recognise simple patterns and say what comes next.
Number
Count forwards and backwards in 2's from odd and even numbers within 20.
Know the number "before", "between" and "after" within 20.
Practically subtract an amount from a set, within 20, as "take away", "subtract" or "finding the difference".
Money
Exchange higher value coins (up to 10p) for 1p's.
Calculate change required when buying items from 5p and then from 10p.
Measures
Understand and use analogue time: o'clock only.
Understand and use digital time: o'clock only.
Shape and Space
Recognise and use mathematical names for 2D shapes: square, rectangle , triangle and circle – using given shapes, and also where they occur in the environment
Handling Data
Use given one criterion Carroll Diagrams to sort for negation, explaining completed diagram (e.g. stating how many animals did not have 4 legs).
World Around Us - May - June 2018
World Around Us (Topic Work) -
Our topic in May and June will be 'A Pirate Adventure!'
Geography
To use language to identify position relative to other objects or places (P)
To follow and to give simple directions to places in the immediate environment (P)
To recognise different viewpoints e.g. from above, below, the side (P)
History
To recognise and record the sequence of events in simple stories and in personal history e.g. photos and artefacts (COT)
To find out about their own and other people's history (COT)
To use simple vocabulary in relation to the passage of time e.g. before/after (COT)
Science and Technology
To identify push and pull (M&E)
That pushes and pulls, including air and water, can make things move (M&E)
That sounds come from a wide variety of sources and that people and other animals hear sounds with ears (P, M&E)
That we can make sounds in a variety of ways and these sounds can be loud or quiet (M&E)
Look at what we have been doing.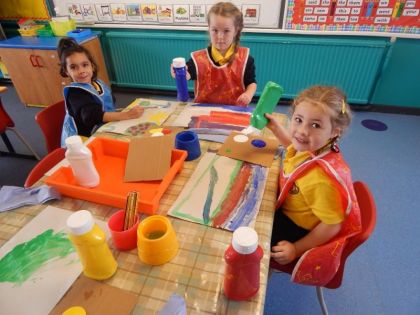 Language & Literacy - May - June 2018
Language & Literacy – In this half term we will:
Talking and Listening
To retell stories, to give main points in sequence and to pick out significant incidents.
Sentence Construction & Punctuation:
To read recounts and begin to recognise generic structure, order of events, sequence words.
To learn about word order by reordering sentences.
Reading
To identify simple questions and use text to find answers.
To read recounts and begin to recognise generic structure, order of events, sequence words.
Phonics & Spelling:
Hear, read and spell initial, final and medial letter sounds in words.
Understand two letters can make one sound.
Handwriting:
Write lower and upper case letters using the correct sequence of movements , ensuring the correct letter orientation to write on lined paper.
Tall, small and below the line letters.
Writing:
To write simple accounts linked to topics using the language of texts read as models for own writing.
Use phonological and graphic knowledge and sight vocabulary when spelling during writing tasks.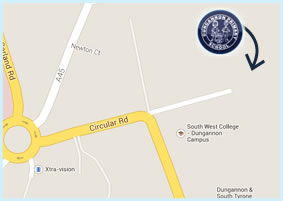 Contact Details
Dungannon Primary School,
Circular Rd,
Dungannon,
County Tyrone,
BT71 6BE
T: 028 8772 2250