LSC Infant
Welcome to Mrs Clayton's and Mrs Kelly's LSC Infant Class.
We are currently updating our website. Please visit again soon.
Numeracy - September - October 2018
Mathematics & Numeracy – In this half term we will:
Understand and use mathematical language when talking about their work.
Number
Count forwards and backwards in 1s from different starting points within 20.
Recognise, read and write numerals within 10.
Touch count, make sets, label sets and order sets of numbers within 10 and beyond.
Money
Recognise 1p and 2p coins.
Use 1p in shopping activities.
Know that 1p coins can be exchanged for a 2p coin
Measures
Use mathematical language when comparing objects for weight.
Shape and Space
Sort and group 2D shapes
Use everyday language to describe position, direction and movement.
Handling Data
Use Tree and Venn diagrams to sort.
Contribute to class pictographs and interpret the diagram.
Literacy - September - October 2018
Language & Literacy – In this half term we will:
Talking and Listening
Listen to and follow instructions accurately.
Speak clearly and audibly with confidence.
Reading
Participate in guided reading sessions and develop reading strategies.
Sentence Construction & Punctuation:
Recognise full-stops and capital letters when reading and name them correctly.
Phonics & Spelling
Linking sounds to letters, sounding the letters of the alphabet.
Hearing and saying sounds in order in words.
Blending sounds to read and write CVC words.
Handwriting:
Use a comfortable and efficient pencil grip.
Write lower case letters using the correct sequence of movements.
Writing:
Write captions for their own work.
Write and draw labels for everyday classroom use.
Use ICT to create signs, labels and captions.
Write about their experiences on Autumn walks and other events
World Around Us - September - October 2018
World Around Us (Topic Work) -
Participate in an Autumn walk around school and at Dungannon Park describing experiences using their senses
Learn about apples, from seed to product
Explore changes of state within Autumn
Learn about hedgehogs and their habitats
Consider appropriate clothing for Autumn
Express their learning about Autumn through paint, clay, sand, recycled materials and foliage
Move and respond to Autumnal music
Learn songs relating to Autumn
We will play in our Harvest shop in our classroom.
ICT
Explore: Participate in whole class activities
Express: Create a simple picture using the interactive whiteboard and pen.
Exchange: Find out information using television programmes.
Evaluate: Know that digital methods can be used to communicate.
Exhibit: Know that work can be printed. Print their work out for display.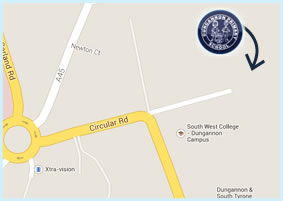 Contact Details
Dungannon Primary School,
Circular Rd,
Dungannon,
County Tyrone,
BT71 6BE
T: 028 8772 2250