Primary 1
Welcome to Mrs Moore's Primary One!
Numeracy - April - June 2018
Mathematics & Numeracy – In this half term we will be studying:
Number
Recognise and use 1p, 2p and 5p coins in the flower shop/cafe to buy one thing at a time, with no change.
Reading and writing numbers to 15 and matching numbers to sets and be able to order these numbers from smallest to biggest and biggest to smallest.
Compare the size of two sets by matching and
counting within 15 and saying which has less and which has more.
Estimate the number in a set.
Mentally add 0, 1, 2 on to a number, within 10.
Add two numbers practically, within 10.
Measures
Compare and talk about the length, weight and capacity of two objects/ containers and be able to talk about which one is lighter/ heavier, longer/shorter, holds more/ less.
Talk about special events in the past, present and future.
Shape &Space
Recognise simple directional symbols in the environment.
Handling Data
Collect data and represent the information in different ways and talk about this.
Mental Maths
Counting backwards from different starting points within 10,
Counting forwards from different starting points within 15.
World Around Us - April - June 2018
World Around Us (Topic Work) - Our topic this half term is 'Summer'. We will be:
Recording sequences of events in simple stories and personal history, e.g. photographs of past holidays
Talking about and sorting animals and plants both from the UK and other places around the world.
Finding out how weather in different seasons affects living things.
Learning that pushes and pulls can make things move.
Learning how to keep safe in the sun.
Literacy Success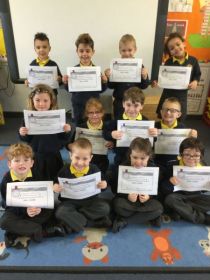 'We are so proud of our Primary One children for learning their high frequency words. Congratulations to all the children who have received Bronze and Silver certificates. Well done!'
Literacy - April - June 2018
Language & Literacy

Talking and Listening
Speaking clearly using an extended gardening.
vocabulary of words about flowers and
Use language to imagine characters, events and feelings.
Be able to share and co-operate in a pair, using talk to clarify ideas and feelings.
Respond appropriately to questions.
Writing
Write sentences to match pictures.
Think about, discuss and rehearse what they intend to write, ahead of writing it.
Expect written text to make sense and check if it does not.
Use the capital 'I' when writing about themselves.
Use experiences, stories and poems as a basis for writing.
Reading
Be able to read a sentence they have written.
Know that the grammar of a sentence can be used to predict and work out words.
Be able to talk about the main characters and
the setting of a story.
Locate capital letters and full stops when reading.
Phonological Awareness
Read a range of high frequency words in a variety of contexts.
Use sounds to read and write three letter words such as 'cat' and 'hut.'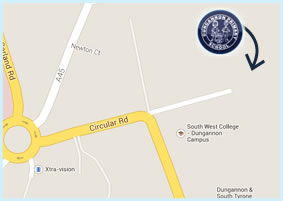 Contact Details
Dungannon Primary School,
Circular Rd,
Dungannon,
County Tyrone,
BT71 6BE
T: 028 8772 2250