LSC ASC
Welcome to Mrs Millington's ASC Class!
We are currently updating our website. Please visit again soon.
Numeracy - November - December 2018
Mathematics & Numeracy – In this half term we will:
Understand and use mathematical language when talking about their work. Make predictions and record how a simple investigation is carried out.
Number
Develop a standard written method for vertical addition TU (with exchange), estimating the answer before calculating.
Understand that addition and subtraction are inverse operations.
Begin to understand the concept of multiplication and division through practical activities.
Revise coins up to £2
Carry out shopping activities calculating totals and change within £1.
Understand the concepts of X and -:- through practical activities.
Measures:
Develop an appreciation of the weight of 1kg.
Estimate and measure using the metre as a standard unit.
Understand and use ¼ to in analogue and digital time.
Know that there are 24 hours in one day, a.m. = 12 hours and p.m. = 12 hours.
Know that there are 60 minutes in 1 hour, 30 minutes in ½ hour and 15 minutes in ¼ hour.
Calculate durations involving hour, ½ past and ¼ past times.
Shape & Space:
Understand and use concept of symmetry through practical activities. Recognise one line of symmetry in a variety of 2D shapes, designs and pictures.
Fit shapes together to make new shapes (e.g. tangrams).
Understand and use "quarter turn", ½ and ¾ turn.
Literacy - November - December 2018
Language & Literacy – In this half term we will:
Grammar & Punctuation:
Past tense: adding "ed" and common irregular past participles e.g. said, went, came
Speech marks
Adjectives
Apostrophes for contraction e.g. I am à I'm
Alphabetical order
Phonics/ Spelling:
Understand and spell common contractions e.g. I'm, didn't
Form plurals using "s" and "es"
Extend our knowledge the same phoneme (sound) can be represented in a variety of ways.
Comparatives and superlatives.
Writing
Identify the features of a recount
Read and compose our own shape poems and calligrams
Write creatively, using a given role
Reading:
As well as Guided Reading the children will develop their skills by participating in the Accelerated Reader programme.
World Around Us - November - December 2018
World Around Us (Topic Work) -
Our topic in November and December will be 'People Who Help Us.' We will be finding out about people who help us in our school and in our community, to stay happy, healthy and safe. We will learn about the Police service and the Fire Brigade, the vehicles they use and where they work. We will learn about doctors, nurses, paramedics and opticians, and how they help us. We will meet people who help us in school, like the school librarian, care taker and secretary and gain a better understanding of their role and responsibilities. Throughout our topic, we will learn how to be pupils who are helpful to others as well.
ICT
Explore: Move Bee-Bot with purpose. Use forwards, backwards and clear memory commands.
Express: Participate in a whole class Christmas song. Song will be recorded using a camera or microphones for school website.
Exchange: Use the phones to call a patient and partake in a short discussion during role play.
Evaluate: Children will watch or listen to their song. They will talk to their teacher about it.
Exhibit: Save work. Children can print work using the print icon.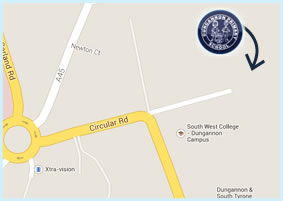 Contact Details
Dungannon Primary School,
Circular Rd,
Dungannon,
County Tyrone,
BT71 6BE
T: 028 8772 2250