ASC (M)
Welcome to Mrs Millington's ASC Class!
Please go to your google classroom account for further guidance in relation to your child's work.
This page is currently being updated.
Numeracy - September - October 2020
Mathematics & Numeracy – During Term 1 we will be studying:
Number
Read, write, order and make sets to 5, 10 and 20
Addition and subtraction within 10
Measures
Time – o'clock analogue and digital
Handling Data
Simple bar graphs, Carroll diagrams, Venn diagrams and sorting
Shape and Space
4 2D shapes and properties
Make pictures with shapes and discuss
Mental Maths
Add on 0,1,2 and take away 0,1,2.
Literacy - September - October 2020
Language & Literacy – During Term 1
Talking & Listening
Listen to and follow instructions accurately.
Speak clearly and audibly with confidence to a range of audiences.
Reading (At appropriately differentiated levels)
Participate in guided reading sessions and develop visual, meaning and grammar reading strategies.
Know the purpose of captions, labels and lists.
Shared reading of a recount.
Comprehension tasks.
Modelled and guided reading.9
Writing (At appropriately differentiated levels)
Recognise full-stops and capital letters when reading and name them correctly.
Use upper case letters and full stops to demarcate sentences
Phonics & Spelling
Linking sounds to letters, sounding the letters of the alphabet.
Hearing and saying sounds in order in words.
Blending sounds to read and write CVC words.
Handwriting:
Use a comfortable and efficient pencil grip.
Trace/write own name
Write lower case letters using the correct sequence of movements.
World Around Us - September - October 2020
World Around Us (Topic Work) –
This term our topic is I Am Special
Some of the activities we will be involved in are:
History
We are learning to identify the main features of home and school. (P)
We are learning to design and make models of places real or imaginary. (P)
History
We are learning to identify how we change at different ages. (I , COT)
We are learning to find out about ourselves and our families now and in the past. (I, COT) We are learning to find out about their own and other people's history. (COT)
Science and Technology
We are learning the names and functions of external body parts. (I)
We are learning to investigate how journeys to school have changed over time (M&E)
That different seasons affect us in a variety of ways (I, COT)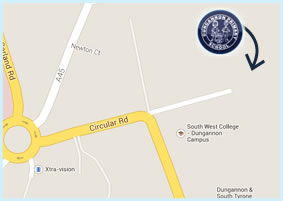 Contact Details
Dungannon Primary School,
Circular Rd,
Dungannon,
County Tyrone,
BT71 6BE
T: 028 8772 2250