LSC J/S
Welcome to Mrs Nesbitt's LSC JS Class
Literacy - April - June 2018
Language & Literacy – During Term 3
GRAMMAR
Using basic punctuation in a sentence – consistently remembering to use capital letters and full stops.
Become familiar with question, exclamation and speech marks and when to use them in writing.
Verbs, nouns and adjectives – identifying these in the text and using them in sentences.
Explore use of past tense.
WRITING
Talk about, plan and record sentences based on books read, topic work or personal interest.
To read over their work to check if it makes sense and to correct their mistakes.
Spellings and Phonics
Know and understand that the same phoneme can be represented in more than one way.
Identify and categorise the most common representations of the same sound eg boat, no, tow, note.
Be able to spell an increasing number of commonly used High Frequency words independently.
Reading
Increase reading accuracy and fluency.
Promote use of expression when reading.
Encourage children to talk about what they have read and to answer questions relating to the text..
Locate information in a text in order to answer questions.
Numeracy - April - June 2018
Mathematics & Numeracy – During Term 3
We will be learning to:
Number
Develop place value and application of number to 20/100/ 1000.
Continue to develop the concept of multiplication and division through practical activities.
Understand fraction notation (numerator and denominator)
Develop a standard written method for subtraction of TU/HTU with/ without exchange (decomposition).
Carry out shopping activities calculating totals and change within 50p £1/£10.
Data Handling
Collect, represent and interpret data using frequency tables & bar charts.
Measures:
Estimate and measure using kg and grams.
Estimate, measure and compare the capacity in litres.
Understand and use 5 minute intervals past and to the hour
Know that there are 24 hours in one day, a.m. = 12 hours and p.m. = 12 hours.
Know that there are 60 minutes in 1 hour, 30 minutes in ½ hour and 15 minutes in ¼ hour.
Shape & Space:
Understand and use "clockwise" and "anticlockwise" to describe turns.
Understand and use the term "right angle" to describe turns.
World Around Us - April - June 2018
World Around Us -
Geography
Pupils will recognise how people impact negatively on the locality
Pupils will identify ways in which they should care for their environment
History
Pupils will know about how refuse collection has changed over time
Science & Technology
Pupils will know the variety of materials we most commonly discard
Pupils will understand where their classroom waste goes
Pupils will understand the importance of reusing materials in order to reduce waste
The children will have the opportunity to investigate how some materials decompose while others don't.
They will have the opportunity to use recycled materials in art and craft.
They will have the opportunity to make recycled paper from used paper.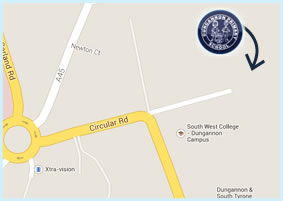 Contact Details
Dungannon Primary School,
Circular Rd,
Dungannon,
County Tyrone,
BT71 6BE
T: 028 8772 2250