LSC J/S
Welcome to Mrs Wharton's LSC JS Class.
We are currently updating our website. Please visit again soon.
Literacy - November - December 2018
Language & Literacy – In this half term we will be studying:
GRAMMAR
Using basic punctuation in a sentence - the correct use of capital letters and full stops.
Become familiar with question and exclamation marks and when to use them in writing.
Verbs, nouns and adjectives – identifying them in sentences.
WRITING
Talk about, plan and record sentences based on pictures.
To check written work and identify where corrections are needed – initially with adult support.
Spellings and Phonics
Know and understand that the same phoneme can be represented in more than one way.
Identify and categorise the most common representations of the same sound eg boat, no, tow, note.
Be able to spell an increasing number of commonly used High Frequency words independently.
Reading
Increase reading accuracy and fluency.
Promote use of expression when reading.
Locate information in a text in order to answer questions.
Using a dictionary or thesaurus.
Accelerated Reading and Bugclub texts
World Around Us - November - December 2018
World Around Us (Topic Work) -
We are continuing on with our topic 'Wonderful Me'.
This topic allows the children to cover aspects of History, Geography and Science and Technology.
The story of Louis Braille.
The work of Guide Dogs for the Blind
Using sign language to communicate
Sound experiments
Our Visit to Palace Stables
As part of our topic 'Wonderful Me,' LSC J/S went to Palace Stables with Mrs. McKane's class to learn about our 5 senses. We had great fun taking part in the practical activities related to each sense. Of course, we couldn't come back to school without a visit to the park as well.
Numeracy - November - December 2018
Mathematics & Numeracy – In this half term we will be studying:
Number
Quick recall of number facts using addition/subtraction.
Estimating before calculating (addition/subtraction).
Money – coin recognition, different ways to make amounts, working out amounts for change, problem solving by selecting required mathematical operations.
Measures
Calendar work using days of the week and months of the year.
Reading and recording times in analogue and digital forms.
Practical activities investigating volume and capacity of different sized containers.
Practical length and weight activities using standard and non-standard measures
Mental Maths
Components of 10 and adding/taking away 10 from a single digit number
Adding on/taking away 10 or multiples of 10 using numbers to 100
Adding on/taking away 9 from numbers to 100
Counting on and back in 2's and 10's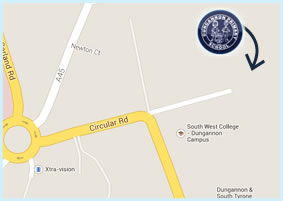 Contact Details
Dungannon Primary School,
Circular Rd,
Dungannon,
County Tyrone,
BT71 6BE
T: 028 8772 2250