LSC J/S
Welcome to Mrs Wharton's LSC JS Class.
We are currently updating our website. Please visit again soon.
Literacy - September - October 2018
Language & Literacy – In this term we will be studying:
GRAMMAR
Using basic punctuation in a sentence – consistently remembering to use capital letters and full stops.
Recognise and use verbs, nouns, adverbs and adjectives.
Understand the difference between past and present tense.
WRITING
Talk about, plan and record sentences based on pictures, topic work or personal interest.
To read over their work to check if it makes sense and to correct their mistakes.
Think about spacing between words and size of letters.
Spellings and Phonics
Know and understand that the same phoneme can be represented in more than one way.
Identify and categorise the most common representations of the same sound eg boat, no, tow, note.
Be able to spell an increasing number of commonly used High Frequency words independently.
Reading
Increase reading accuracy and fluency.
Promote use of expression when reading.
Encourage children to talk about what they have read.
Locate information in a text in order to answer questions.
Make use of Bug Club and/or Accelerated readers.
Understand alphabetical order and how to locate words and information in a dictionary or thesauras
Numeracy - September - October 2018
Mathematics & Numeracy – In this term we will be studying:
Number
Written methods for addition/subtraction involving single digits/two digit /3 digit numbers with and without exchange.
Money – coin recognition, different ways to make amounts, working out amounts for change, problem solving by selecting required mathematical operations.
Measures
Calendar work using days of the week and months of the year.
Recognise and use non-standard measures and metres and centimetres when measuring length.
Read and set a variety of times on the clock in both digital and analogue format.
Handling Data
Make a tally and use information to make a pictogram and bar chart.
Be able to talk about their results.
Mental Maths
Add and subtract a tens number to/from a teens number
Counting forwards and backwards in steps of 2/5/10
Add and subtract 10 from numbers within 50/100/999
World Around Us - September - October 2018
World Around Us - Wonderful Me
Geography
Observe and record weather daily using symbols (COT)
Observe seasonal changes in the landscape (COT)
History ( A Sense of the Past/ An Awareness of Evidence/ An Awareness of Time
Use words and phrases relating to the passing of time and be able to place dates and events in a simple timeline of My School Year (COT)
Science and Technology
To know that we have senses and these help us to understand theworld (I)
That food, exercise, rest and personal hygiene are important to keep healthy (I)We will be investigating our 5 senses through practical activities and how these help to keep us safe. The children will have the opportunity to find out about healthy food and will make fresh fruit salad.
We will also be exploring other ways of keeping healthy and safe. The children will listen to and read poems about keeping healthy and in Numeracy they will have the opportunity to engage in Data Handling when making a tally and recording this information.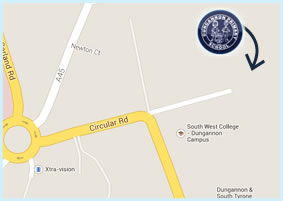 Contact Details
Dungannon Primary School,
Circular Rd,
Dungannon,
County Tyrone,
BT71 6BE
T: 028 8772 2250