LSC W
Welcome to Mrs Wharton's LSC Class.
Literacy - May - June 2021
Language & Literacy – In this term we will be studying:
GRAMMAR
· Using basic punctuation in a sentence – consistently remembering to use capital letters and full stops.
· Become familiar with question and exclamation marks and when to use them in writing.
· Verbs, nouns and adjectives – identifying these in the text.
WRITING
· Talk about, plan and record sentences to write short descriptions.
· To read over their work to check if it makes sense and to correct their mistakes.
Spellings and Phonics
· Know and understand that the same phoneme can be represented in more than one way.
· Identify and categorise the most common representations of the same sound.
· Be able to spell an increasing number of commonly used High Frequency words independently.
Reading
· Increase reading accuracy and fluency.
· Promote use of expression when reading.
· Encourage children to talk about what they have read.
· Locate information in a text in order to answer questions.
Numeracy - May - June 2021
Mathematics & Numeracy – In this term we will be studying:
Number
· Number recognition & ordering numbers to 30/Place value of numbers within 99 and exchanging units for a ten/multiplying a 2digit number by a single digit number and practical grouping for division.
· Money: adding money & making amounts to 20p/99p/£9.99. : finding change from 20p/50p & £1/£10
Measures
· Reading analogue & digital clocks: o'clock & half past/quarter past & quarter to/ in 1 minute intervals.
Position & Shape
· Recognising turns: left & right, clockwise & anticlockwise.
· Programming Bee-Bot to move to different locations
Mental Maths
· Develop quick recall of adding 0n & subtracting 1 using numbers to 10/halving numbers to 20 & making 10/x6,7,8,9 tables & ÷ 2,3,4,5 tables.
World Around Us - November - December 2020
World Around Us - Minibeasts
Geography
· Recognise the main natural features of the local environment.
Science and Technology
· To sort living things using observable features.
· To find out about some animals including how they grow and move.
Activities
· Discuss and sort living & non-living things.
· Use books and the internet to find out about different minibeasts.
· Identify minibeasts and their habitats using pictures and looking for minibeasts around school.
· Sorting minibeast using Venn & Carroll Diagrams.
· Collect and observe minibeasts and how they move.
· Identify & name parts of an insect.
· Observe, discuss & order the life cycle of a butterfly.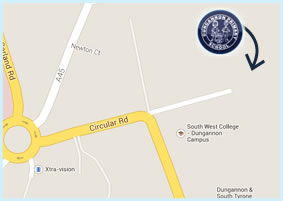 Contact Details
Dungannon Primary School,
Circular Rd,
Dungannon,
County Tyrone,
BT71 6BE
T: 028 8772 2250