Primary 7 CK
Welcome to Mrs Kennedy's Primary Seven Class!
Numeracy - April - June 2018
Mathematics & Numeracy – In this half term we will be studying:
Number
Revision of all numerical operations – addition, subtraction, multiplication and division
Division with remainders as decimals
Addition and subtraction of fractions
Multiplication of fractions
Algebra – a symbol representing a number
Measures
Use formulae to find the volume of a 3D shape
Revision of 12hr and 24hr clock
Reading and using timetables
Shape and Space
Investigating nets of 3D shapes
Revision of 2D shapes and their patterns
Data Handling
Use numeric system to develop idea of chance based upon number of possible outcomes. E.g. chance of getting "heads" when spinning a coin: one flip, two possible outcomes - chances are 1 out of 2.
Mental Maths
Revision of all times tables
World Around Us Activities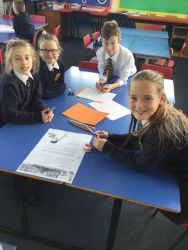 Do taller people have bigger feet?
How are we going to record our results?
We found that taller people do have bigger feet.
Primary 7's topic work on the Human Body is well underway. We have looked at the organs in the body as well as the skeleton. We can name bones and know the 3 main purposes of the skeleton: to protect, to support and to help with movement. Every Tuesday we are doing practical activities to back up what we have learned in Monday afternoon sessions. These pictures show a mixture of children from both classes designing a protective package for a Tunnock's Teacake. The teacake represents delicate organs like the brain or lungs and the packaging each group designed represents the job of PROTECTING which the skeleton (skull or rib cage) does for our organs. We will post some of our write ups here when they have been completed.
As part of our 'Mighty Me'/Human Body topic, we investigated if people who are taller have bigger feet. To do this we decided to order ourselves from tallest to smallest within our groups. Then we recorded the shoe size of each person in a table. We thought it would be easier to show the pattern on a bar or line graph. Each group proved the theory that generally, taller people have bigger feet than shorter people.
Primary 7 Classwork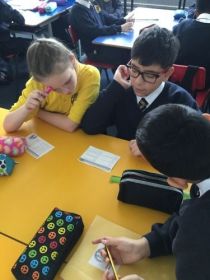 Primary 7 are also mixing on a Thursday after break to complete literacy AND numeracy comprehension activities. We hope this will help us, especially with our problem solving abilities. Our numeracy comprehensions help us give our maths a context in real life!
Literacy - April - June 2018
Language & Literacy – In this half term we will be studying:
GRAMMAR
Revision of all parts of speech
Compound and complex sentences
Understand how clauses can be manipulated to achieve different effects in complex sentences
Use active and passive verbs
WRITING –
Study how effective arguments are constructed in journalistic writing
Understand features of persuasive writing
\understand what makes a good speech, exploring structure and style
Write a speech on a subject they are interested in.
Take part in debates
Write challenging interview questions
Understand the features of explanatory texts
Create, organise, refine, and present ideas using traditional and digital means, combining text, graphics or sound e.g keynote or PowerPoint presentation
Make a short video of their speeches – use peer assessment to edit and improve the video
Planning and redrafting of a final writing piece will also be carried out by the pupils.
World Around Us - April - June 2018
World Around Us (Topic Work) -
Our topic this half term is 'And the Band Played On' - (TheTitanic)
Children will:
Children will complete a KWL grid on 'The Titanic'
Find out about the wreck of the Titanic, where it is, how it was found etc
Who was on board? Access passenger/crew lists. Listen to accounts from the survivors of the titanic - www.bbc.co.uk/archive/survivorsofthetitanic
Learn about communication on the Titanic and how communication methods have changed over the last 100 years.
What was the ship like? Look at images of the Titanic. Compare and contrast 1st, 2nd and 3rd class accommodation. Investigate how similar/different a modern cruise ship would be
Create a Newspaper article relating to the Titanic
Learn about relevant events leading up to the sinking and draw conclusions.
Investigate Floating and sinking
Look at ticket prices for the Titanic and work out how much the passage was and how much it would cost in other currencies e.g. Euro, Swiss Francs?
Write a diary account as if they are a passager. a member of the ship's crew or a ship builder
Look at and study the Artist Ken Marschall
Understand the importance music played on the Titanic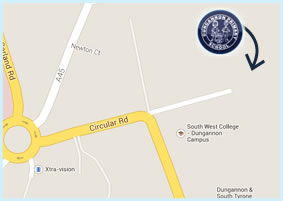 Contact Details
Dungannon Primary School,
Circular Rd,
Dungannon,
County Tyrone,
BT71 6BE
T: 028 8772 2250